This is great as a little snack on its own or to accompany meals.
It has a great crunch and is quite salty so is almost like a seasoning.
Some people say it tastes a bit like crispy seaweed.
My son loves this too but I leave out the chilli for him!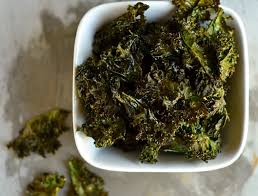 Prep Time5 mins
Cook Time10 mins
Total Time15 mins
Curly Kale - All the hard stalks removed, chopped into pieces, washed and dried
1
Toss the kale in oil, chilli and salt
2
Cook at 100 degrees for 40 mins (keep and eye on it!)
3
It's best just as it turns a little brown
Ingredients
Curly Kale - All the hard stalks removed, chopped into pieces, washed and dried
Directions
1
Toss the kale in oil, chilli and salt
2
Cook at 100 degrees for 40 mins (keep and eye on it!)
3
It's best just as it turns a little brown