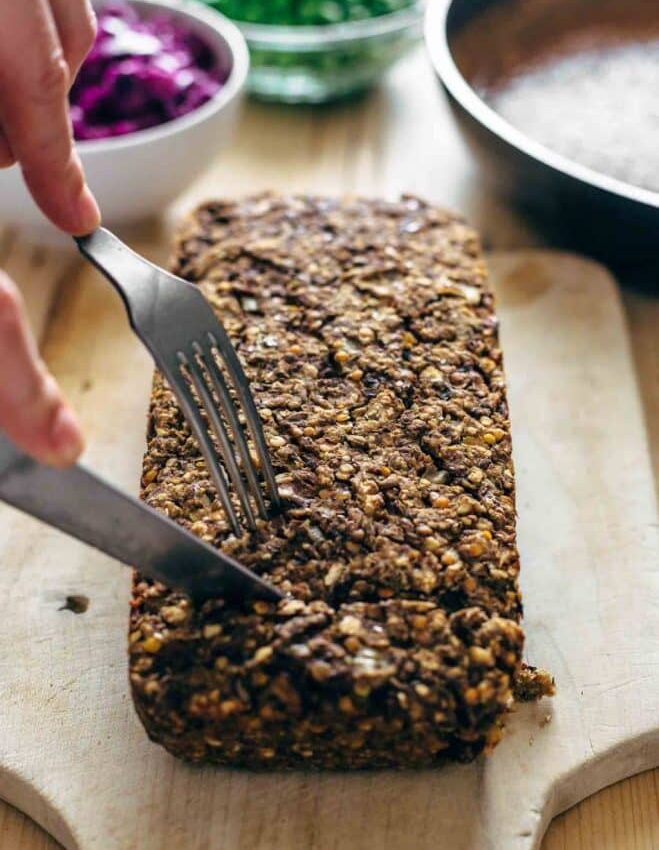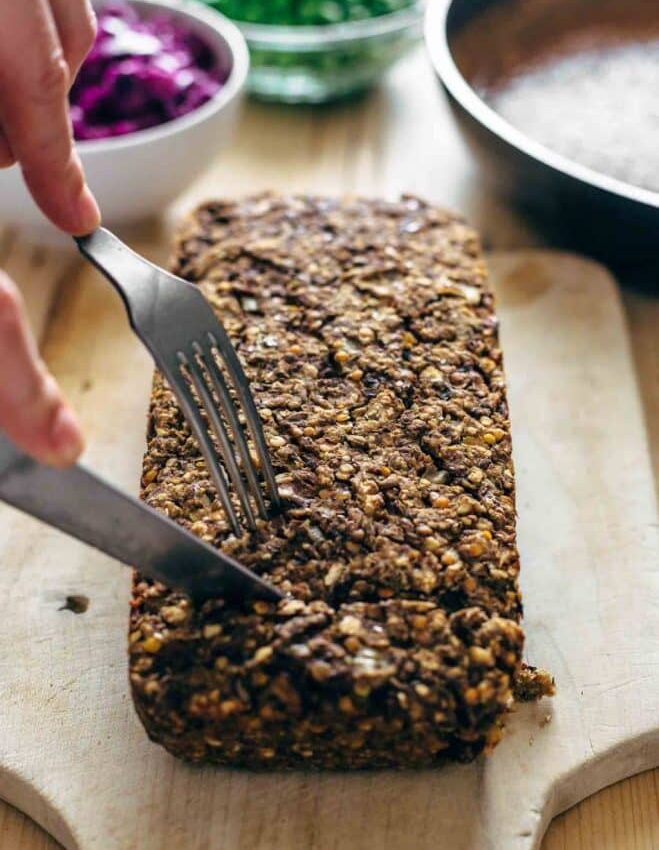 Vegan Meatloaf
By Jen Booker
September 29, 2020
Quick and easy to prep and can be done 2 days in advance and kept in the fridge. Nice main event for a Sunday roast. Leftovers are great cold!
Prep: 15 mins
Cook: 1 hr
Yields: 4
Ingredients
1 small onion , finely chopped
2 large cloves of garlic finely chopped
1 cup cooked split red lentils (measured after cooked). Do not overcook the lentils. They should be just soft.
1 cup cooked green lentils (measured after cooked)
226g / 3 cups mushrooms , finely chopped
4 tablespoons ground flax seeds
Directions
1Preheat oven to 180
2Make sure the onion, garlic & mushrooms are chopped finely. If you have a food processor you can do this in there
3Put them in a large bowl then add all other meatloaf ingredients except the water.
4Mix very, very well together. There is a lot of it and it is hard to mix with a spoon so it's much easier to get your hands in there and squidge it all together well.
5You need it so that it sticks together nicely when you squeeze it with your hands. If it does this easily then don't add any water. If it's still a little crumby and wont come together add water very gradually until it just starts coming together. I often need no water at all. Definitely don't add more water than it needs or it will make the loaf soggy.
6Lay a strip of parchment paper down the length of a loaf tin with enough length either end to act as handles for pulling the finished loaf out
7Spoon in the meatloaf mixture and pack down really tightly.
8Bake in the preheated oven for 50-60 minutes. Keep an eye on it towards the end. You want it to go a bit crusty and brown on the top but not too dark. You can cover it with a piece of foil if it does start going too brown.
9Remove from the oven and leave to cool in the tin, covered tightly in foil for at least 15 minutes but up to 30 is ok. Then remove and slice.
0 Reviews