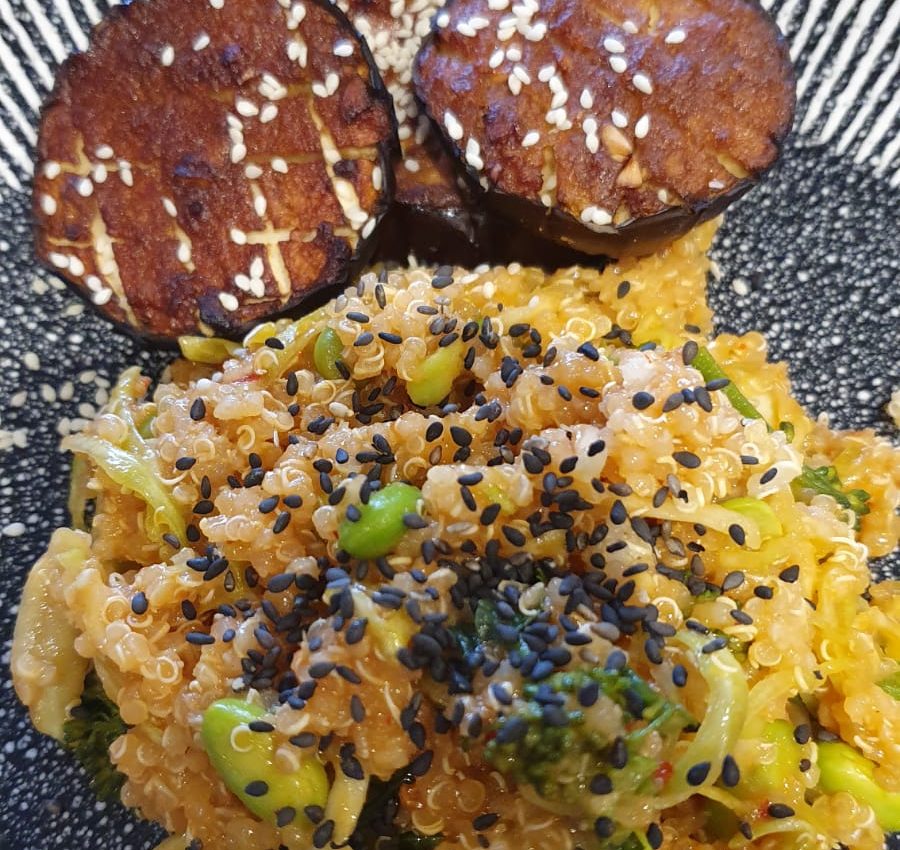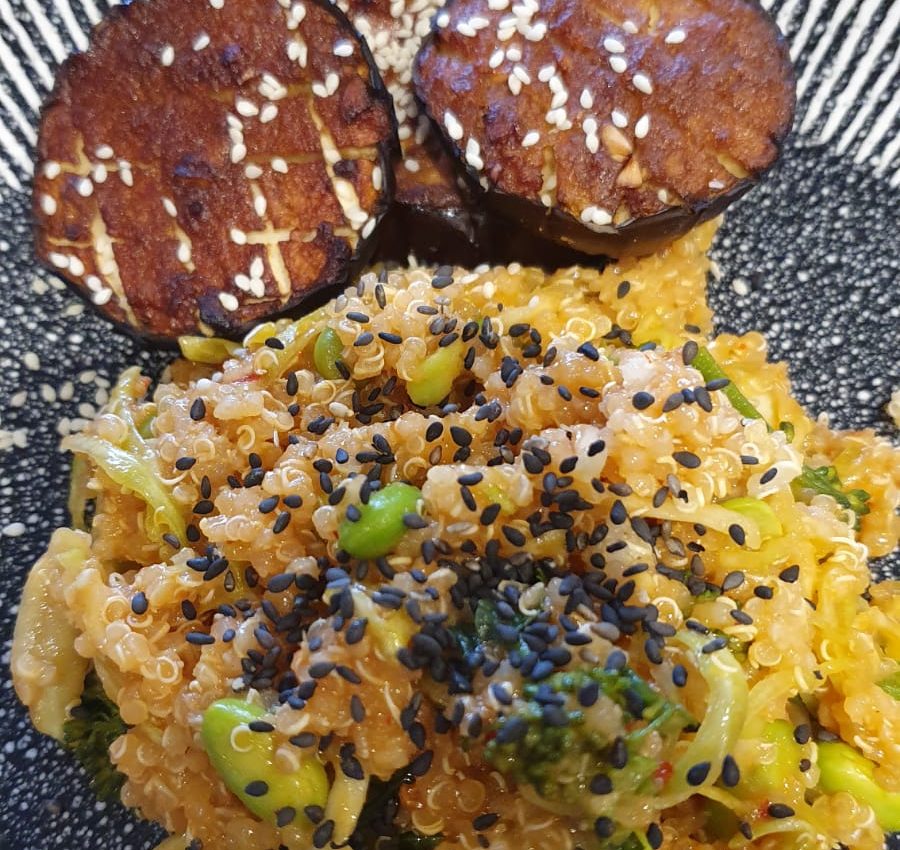 Asian Quinoa Salad with Miso Aubergine
By Elisa Booker
July 10, 2019
Easy and quick but impressive-tasting meal. You can adjust to include any veggies you like in the salad and it makes a great lunch the following day.
Prep: 15 mins
Cook: 25 mins
Yields: 4 servings
Ingredients
Quinoa Salad
1 cup dry white quinoa (well rinsed and drained)
Quinoa Veggies
1 1/2 cups thinly sliced purple cabbage
1 cup shredded kale or chopped coriander (optional)
Salad Dressing
1 tsp fresh finely chopped ginger
1 Tbsp crushed peanuts (for topping)
Miso Aubergine
Directions
Quinoa Salad
1Heat a small saucepan over medium heat. Add sesame oil and rinsed quinoa.
2Toast quinoa, stirring frequently, for 2-3 minutes, then add water.
3Bring to a boil over medium-high heat. Then reduce heat to low, cover and cook for 18-20 minutes (or until liquid is absorbed).
4Once cooked, fluff with a fork and set off of the heat. Crack the lid partway open to let steam escape.
5While the quinoa is cooking, add 2 inches of water to a medium saucepan, heat over medium-high heat, and insert a steamer basket . Once water is simmering, add the edamame, then the broccoli and cover.
6Cook for 5 minutes to gently thaw the edamame and steam the broccoli. Then remove from heat and transfer to a large mixing bowl (for serving). Set in the refrigerator to chill.
7Next prepare dressing by adding all ingredients to a small mixing bowl and whisking to combine. Taste and adjust as needed. Set aside.
8Add quinoa, and cabbage to the steamed broccoli and edamame and top with dressing. Toss to combine.
Miso Aubergine
1Preheat the oven to 180°C.
2Slice the aubergines width-ways into half inch discs and score the flesh in a diamond pattern.
3Line a baking sheet with grease-proof paper and lay the aubergines on top.
4Mix the miso, maple syrup, soy sauce, sesame oil, ginger and garlic to make a smooth paste. Brush over the aubergine flesh and roast for 20-25 minutes until golden brown and soft. Sprinkle with the spring onions and sesame seeds.
0 Reviews