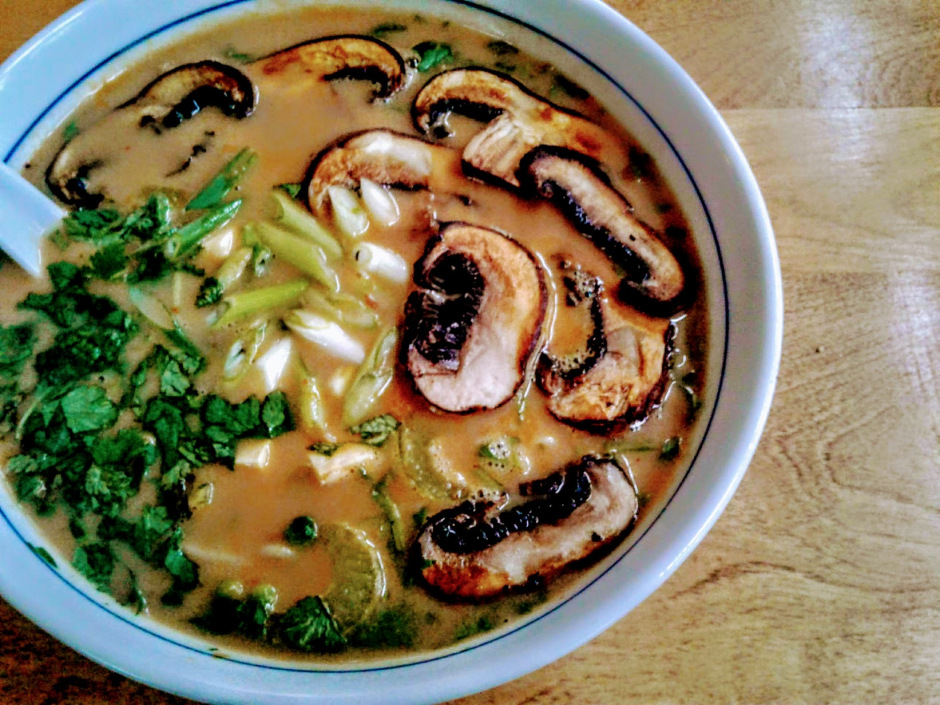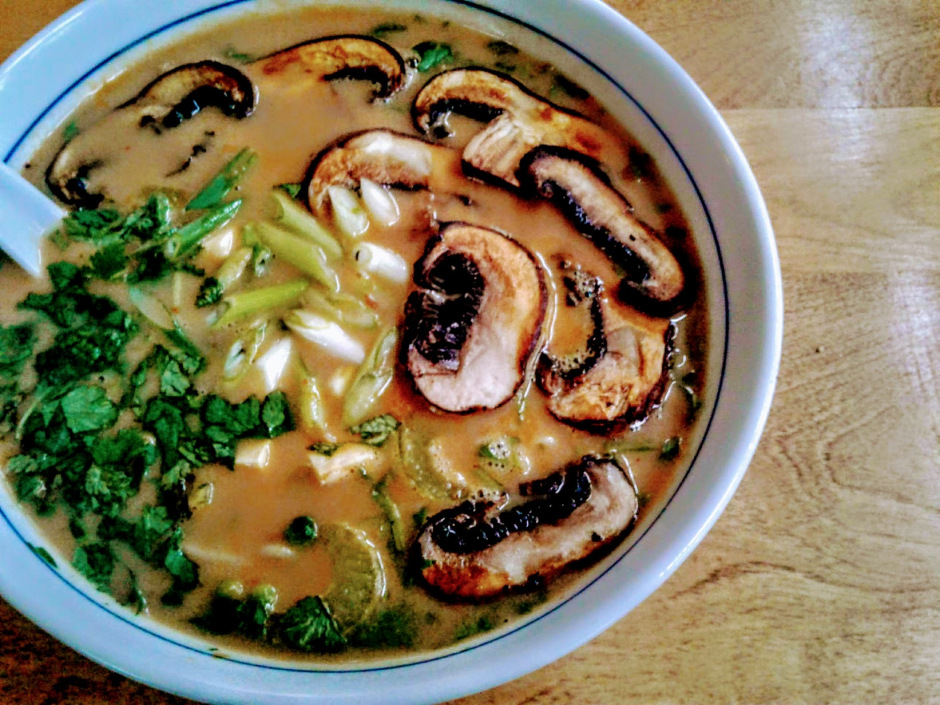 Coconut Curry Ramen
By Suzy Mahony
September 23, 2018
Yummy warming ramen, serve in deep bowls for super comfort food.
Prep: 15 mins
Cook: 1 hr 15 mins
Yields: 3 bowls
Ingredients
BROTH
1 Tbsp toasted or untoasted sesame oil*
1 small knob ginger (sliced lengthwise into long strips)
1 large onion (chopped lengthwise)
2 1/2 Tbsp yellow or green curry paste
950ml vegetable broth (DIY or store-bought)
1 400ml can light coconut milk
1-2 Tbsp coconut sugar (optional // more to taste)
1/2 tsp ground turmeric (optional // for color and more curry flavor)
1 Tbsp white or yellow miso paste
FOR SERVING
noodles of choice ( e.g. ramen noodles, brown rice noodles, courgetti etc)
Any vegetables of choice (e.g. sliced peppers, baby corn, mange tout, sugar snap peas)
2 whole portobello mushrooms (stems removed, sliced into 1/2-inch pieces, sautéed in 1 Tbsp sesame oil + 1 Tbsp tamari + 1 tsp maple syrup)
Directions
1Heat a large pot over medium-high heat. Once hot, add oil, garlic, ginger, and onion. Sauté, stirring occasionally for 5-8 minutes or until the onion has developed a slight sear (browned edges).
2Add curry paste and sauté for 1-2 minutes more, stirring frequently. Then add vegetable broth and coconut milk and stir to deglaze the bottom of the pan.
3Bring to a simmer over medium heat, then reduce heat to low and cover. Simmer on low for at least 1 hour, (up to 2-3 if you want), stirring occasionally. The longer it cooks, the more the flavour will deepen and develop.
4Taste broth and adjust seasonings as needed, adding coconut sugar for a little sweetness, turmeric for more intense curry flavour, or more sesame oil for nuttiness.
5About 10 minutes before serving, prepare any desired toppings/sides, such as noodles, sautéed portobello mushrooms, or spring onion (optional). Add any vegetables being used to the broth to cook (you can cook these separately and add on serving if you prefer)
6Just before serving, scoop out 1/2 cup of the broth and whisk in the miso paste. Once fully dissolved, add back to the pot and turn off the heat. Stir to combine.
7To serve, divide noodles between serving bowls. Top with broth and desired toppings. Serve with chilli garlic sauce or sriracha for added heat.
Notes
1You can strain the broth when serving if you prefer to not have the onions and ginger in it.
2Best when fresh, though the broth can be stored (separate from sides/toppings) in the refrigerator for up to 5 days or in the freezer for up to 1 month.
0 Reviews